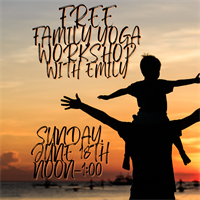 Just in time for Father's Day…..Family Yoga Workshop! Families will get a chance to have fun together while learning and exploring individual and partner yoga poses, as well as learn about breath work involved in Power Vinyasa, and how it can be applied during and outside of yoga class.
The workshop will conclude with a gratitude circle, in which everyone will acknowledge and share some of the things they are grateful for.
Donations will be accepted for The Center for Violence Free Relationships. The Center is empowering individuals to live a life free from abuse and is dedicated to building healthy relationships, families and communities free from sexual assault and domestic violence through education, advocacy and services in western El Dorado County.
Saturday, June 15th 12:00 pm – 1:30 pm